On your way to our adorable little fishing village, you will pass through an area of Gros Morne National Park known locally as The Gulch, which has 2 fantastic walking trails: The Tablelands Interpretive Trail and Green Gardens.   These are also listed on the Canada Parks website.  One is a hike through rocky terrain that is almost extra-terrestrial in appearance.  The sky is always a surreal blue through this section, so don't forget to bring your camera.  A little further along, towards Trout River you will reach the breathtaking Green Gardens, which, as its name implies, sports areas of lush vegetation in sharp contrast to the Tablelands trail.
As soon as you reach town limits you will see Trout River's Lookout Trail (not to be confused with the Lookout Trail on the Canada Parks website which begins in another community nearby).  This vertical trail gives you a great scope of the mountain range on your way up and once you reach the top, you can view our little town.  There are some rest spots with picnic options, and possibly blueberries should you be hiking July/August.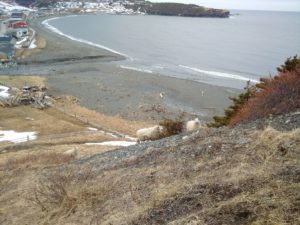 If you take the road into Trout River on your right and turn right again at the bottom of the hill, you will find the entrance to the Eastern Point Trail at the very end of Main Street. A short flight of stairs leads to the top of cliff that extends out towards the ocean.  It is a ruggedly scenic trail that provides fabulous views of the water, beach, town, cliffs and livestock.  Some friendly sheep may make an appearance.
Across the harbour from the cliff plateau you will see a large rock structure the locals call The Old Man (who was once accompanied by an Old Woman, who has since crumbled).  The trail to see The Old Man/ Lighthouse trail begins on the other side of the Feeder Bridge.  This winding trail leads directly to these neat rock formations, while giving marvelous camera shots of the Town of Trout River, the river itself, fishing boats and mountain range.  You can carry on past the nature made statue along soft fields to view the ocean and cliffs.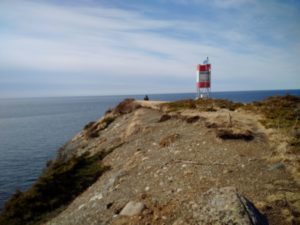 Journey next, down Main Street towards Canada Parks territory within the Town of Trout River. You will find a beach, boat launch, wharf, campground, playground, picnic spot and more inviting trails.  You will see the Elephant Head Hill (mountain) on the other side of The Pond (lake).
Trout River Pond Walking Trail is on your left. This is a narrow trail which can be a tad muddy, so be sure to wear hiking boots for this one.  It is quite interesting, with quaint bridges, unique foliage, side paths that lead out to the water's edge, as it takes you up to the rocky, copper laden Table Lands.
Across The Pond, still in Canada Parks' territory, where you could have gone right upon entering, you will see the bridge that leads to wider, road like trails up into the mountains.  All- terrain vehicles, bikes, horses, snowmobiles and sled dogs can journey here.  Here you will also find a campground nestled on the right (note, vehicle restrictions are in place within the campground area itself).
There is a hidden gem of a trail, which you can get to via this wider trail network, that leads out to Chimney Cove (locals call it Chim-lee Cove).  You may be surprised to find cows in the woods around Chimney Cove Brook (which is a fast flowing river).  More cows, horses and quaint cabins await you at the end of the trail, as it opens into a valley and beach.  The mountainside here is surreal in its formations and plant growth.
If you enjoy lakes and waterfalls, there is yet another newly developed trail, The Rough Road, which branches off from Chimney Cove Trail before you get to Chimney Cove Brook.  It takes you up around the back of Elephant's Head, where the eagles and hawks soar.  This one is great for horseback riding, four-wheeling or snowmobiling. You must go part of the way on foot to reach this waterfall.
Overfalls Trail allows you to take a swim at the base of a waterfall!  You begin by travelling across The Pond for roughly an hour. Then you will go on foot up a narrow hiking trail that winds its way around the scenic South side of Gros Morne National Park, brings you to the base of Overfalls and leads you up and around to the top of the "hill" for a fantastic view of this amazing place.
Trout River is going to be developing even more trails for you to explore in the near future.  So stay tuned!!
We hope you enjoy your visit here and the many trails Trout River has to offer!